It's hard being a zombie, 1 of 8
2015-10-05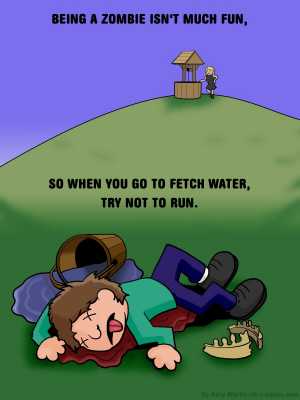 1116

Comic dialog
And Jill walked cautiously after.

Panel 1
Caption: BEING A ZOMBIE ISN'T MUCH FUN, SO WHEN YOU GO TO FETCH WATER, TRY NOT TO RUN.

---
Gary
Author Comments aka Comic News

October!
This year, to celebrate Halloween, I'm doing an eight part zombie story. It's a lot simpler than the Halloween comics I've tried to do in the past, so I'm pretty confident it'll make it up this year. I'll post them every Monday and Wednesday in October. Currently they're all written and roughly sketched out, and the two for this week are done. I hope you all enjoy, they were inspired by two of the zombie shirts I designed.

I'm also going to try and post a zombie related video of some sort with each comic. The first one is a classic, Thriller.



---
RIP rm-r-comic
Apr 2 2007->Oct 31 2015
< October 2015 >
Sun
Mon
Tue
Wed
Thu
Fri
Sat
1
2
3
4

5

6
7
8
9
10
11
12
13
14
15
16
17
18
19
20
21
22
23
24
25
26
27
28
29
30
31